WORLD EQUIPMENT CO.,LTD.
Marketing Office: No.593 Middle TongJiang Road, 4#1110-1116,Changzhou,Jiangsu,China 213022
Manufacture: Dantu Industrial Zone, ZhenJiang, JiangSu, China
Post Code : 213022
E-mail :
worldequipment@163.com
Compact Excavator Mini Excavator
3/30/2011 12:22:05 PM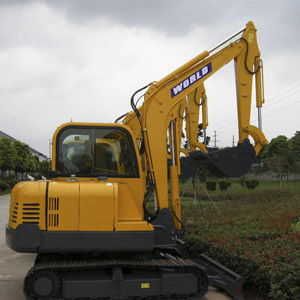 Compact excavator:

Description:

A compact excavator, also called the mini excavator has the approximate operating weight from 0.7 to 7.5 tons. This machine has a standard backfill blade and features independent boom swing. Especially, the hydraulic excavators are different, because of different movement and different functions of the machine. This compact excavator is activated by hydraulic fluid powering hydraulic motors.


Features:
1. Theextra-long arms are available on all compact excavators for additional dig depth.
2. Itcan be easily operator's platform by using 3-Post ROPS/FOPS with canopy option.
3. Fully-enclosed cab systems are available on the 27SR/30SR/50SR models.
4. The compact excavators have high daggering forces and fast cycle times so that you can get more done and faster.
5. Auto idle, auto two-speed and a load sensing variable pump help to improve the fuel efficiency.
A compact standard radius tail swing with a swing or fixed boom option makes it available to any job site.
Compact Excavator
World Equipment Co., Ltd. offers a comprehensive range of products and services, including excavator (digger), wheel loader, crawler bulldozer, road roller, motor grader, skid steer loader, Compact Excavator, Sideboom and other vehicles as well as second-hand machines and spare parts. Having established our brand all around the globe.
Other