WORLD EQUIPMENT CO.,LTD.
Marketing Office: No.593 Middle TongJiang Road, 4#1110-1116,Changzhou,Jiangsu,China 213022
Manufacture: Dantu Industrial Zone, ZhenJiang, JiangSu, China
Post Code : 213022
E-mail :
worldequipment@163.com
Construction Bulldozer
1/12/2011 9:21:14 AM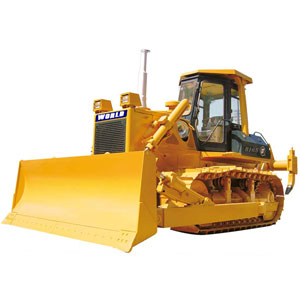 Construction Bulldozer
Highway construction is of a strong seasonal nature, and has concentrated workload and poor constructional conditions. Hence, large and medium-sized crawler bulldozers are mainly used as construction bulldozers for short-distance moving of earth and gravel and other operations, such as excavating and filling road earthwork, excavating and cinder collecting of pits, riverbed, and channels, dam filling, ground leveling, trees cutting, roots removing and aggregate operations. In addition, partial roller compaction can be carried out for shoveling and pre- loosening of earth and towing a variety of towed earth-moving machinery as well.

We provide a range of construction bulldozers to meet varied demands of road construction. Our crawler bulldozer, also a construction bulldozer, has good cross-country performance and strong traction, independently accomplishing several procedures of towing, pulling, excavating, delivering, pressuring and breaking. Applying advanced technology, we have successfully made superior construction bulldozers that feature reasonable arrangement, excellent performance, beautiful design, easy control, convenient maintenance, safety and reliability. Thus the construction bulldozer is ideal equipment for roadwork construction.

Reliable, the engine of our construction bulldozers has high coefficient of power reserve, high torque output and low oil consumption. The shock absorber reduces impact against transmission system, enhancing stabilization of the drive system. The construction bulldozer is equipped with newly developed electronic monitoring device, which has instrument display and warning property. The novel hexagon cab has a wider field of vision, better ventilation and sealing effectiveness. Furthermore, we adopt dry multi-plate steering clutch with hydraulic booster steering, which is reliable and easy to maintain.

World Equipment is a professional Chinese manufacturer and supplier of crawler bulldozer (crawler dozer). Crawler bulldozer (crawler dozer) is our major product for export. In over 10 years, our products have been exported to Europe, South America, Middle East, Southeast Asia, and Africa. We provide more than 165 hp crawler bulldozer,220 hp crawler bulldozer,320 hp crawler bulldozer. Please contact us without hesitation and we will offer you a competitive price.

Type:

WD410Y-1 Construction Bulldozer
WD320Y Construction Bulldozer
WD220Y Construction Bulldozer
WD165Y Construction Bulldozer
WD140 Construction Bulldozer
WD135Y Construction Bulldozer
WD120 Construction Bulldozer

other Type:
Crawler Bulldozer
Mining Bulldozer
Construction Bulldozer
Bulldozer HP
Construction Bulldozer
World Equipment Co., Ltd. offers a comprehensive range of products and services, including excavator (digger), wheel loader, crawler bulldozer, road roller, motor grader, skid steer loader, Compact Excavator, Sideboom and other vehicles as well as second-hand machines and spare parts. Having established our brand all around the globe.
Other