WORLD EQUIPMENT CO.,LTD.
Marketing Office: No.593 Middle TongJiang Road, 4#1110-1116,Changzhou,Jiangsu,China 213022
Manufacture: Dantu Industrial Zone, ZhenJiang, JiangSu, China
Post Code : 213022
E-mail :
worldequipment@163.com
Mining Bulldozer
1/12/2011 9:37:03 AM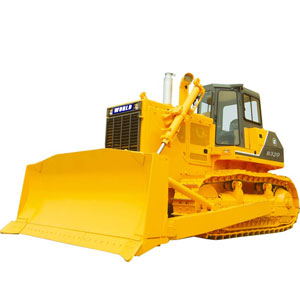 Mining Bulldozer
With the consistent advancement of mineral resource development technology, there are higher requirements for mining machinery. Hence, large sale, environment-friendly, safe and reliable mining equipment is in urgent need. In view of the poor constructional conditions and timeliness of mine construction, only the highly efficient mining machinery with stable performance can meet the market demand.

Specializing in manufacturing crawler bulldozers in China, Company develops different models of bulldozers based on the specific conditions of mine engineering construction. Our mining bulldozers have the advantages of reasonable overall arrangement, beautiful design, labor saving and comfortable driving, good performance, convenient maintenance, safety and reliability.

type:

WD410Y-1 Mining Bulldozer
WD320Y Mining Bulldozer
WD220Y Mining Bulldozer
WD165Y Mining Bulldozer
WD140 Mining Bulldozer
WD135Y Mining Bulldozer
WD120 Mining Bulldozer

As mine engineering work is highly dangerous, we aim to manufacture safe and reliable mining bulldozers to ensure safety of construction workers. Hence, we adopt serration and ovaloid edge trimming gear transmission to improve uniform load on the driving medium and steady transmission and also to extend lifetime of the driving medium. Meanwhile, we also apply viscoelastic suspension technology, which makes vibration of the body of mining bulldozers decreased by 50%, working efficiency improved by 30% and life time of viscoelastic suspension mechanism longer than 4000h.

As mining equipment is used in operating environment where there is high labor intensity, we strive to manufacture mining bulldozers that can reduce labor for the driver of the machine. Therefore, we utilize advanced control technology and make use of hydraulic rotary transmission, which has high control precision, flexible operation, and reduced operating force, saving labor of the driver and enhancing working efficiency.

Moreover, as mining has high energy consumption, we upgrade traditional bulldozers to save energy. We use well-known brand engines with high coefficient of power reserve, high torque output and low oil consumption to improve performance and reduce energy consumption of our mining bulldozers.
Mining Bulldozer
World Equipment Co., Ltd. offers a comprehensive range of products and services, including excavator (digger), wheel loader, crawler bulldozer, road roller, motor grader, skid steer loader, Compact Excavator, Sideboom and other vehicles as well as second-hand machines and spare parts. Having established our brand all around the globe.
Other