WORLD EQUIPMENT CO.,LTD.
Marketing Office: No.593 Middle TongJiang Road, 4#1110-1116,Changzhou,Jiangsu,China 213022
Manufacture: Dantu Industrial Zone, ZhenJiang, JiangSu, China
Post Code : 213022
E-mail :
worldequipment@163.com
Motor Grader
1/4/2011 11:29:18 AM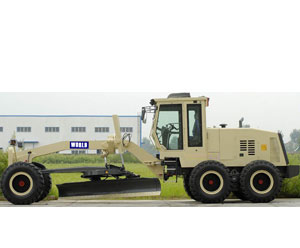 The WBM U/V Angle Blade is the most versatile blade available for a motor grader. It has the capabilities of operating as a Straight Blade, Angle Blade, U-Blade, or V-Plow. They are used extensively for snow removal and are extremely useful due to their functionality. Auxiliary hydraulics are utilized, along with an optional diverter valve to enable operator controlled blade changes between all four configurations. The U/V Angling Blade is available in either KAT Master Hitch or Integral Lift Group designs.
Features of
Motor Grader
:
Reinforced tubular pivot frame
Proven and tested moldboard profiles
130 degree U-blade angle
230 degree V-blade angle
25 degree blade angling capability left or right
Varied moldboards s and s
Benefits of
Motor Grader
:
Rugged tubular pivot frame design increases durability and work life to match heavy snowfall removal operations
Moldboard profiles provide excellent snow removal or carrying characteristics
130 degree U-blade angle supplies exceptional snow carrying capabilities to push or pile snow
210 degree V-blade position provides outstanding "piercing" traits in high drift or large accumulation snow areas
Side casting or windrowing is easily done utilizing the 25 degree blade angle position
Moldboard s from 10 ft to 13 ft match most machine capacities and requirements
Motor Grader
World Equipment Co., Ltd. offers a comprehensive range of products and services, including excavator (digger), wheel loader, crawler bulldozer, road roller, motor grader, skid steer loader, Compact Excavator, Sideboom and other vehicles as well as second-hand machines and spare parts. Having established our brand all around the globe.
Other