WORLD EQUIPMENT CO.,LTD.
Marketing Office: No.593 Middle TongJiang Road, 4#1110-1116,Changzhou,Jiangsu,China 213022
Manufacture: Dantu Industrial Zone, ZhenJiang, JiangSu, China
Post Code : 213022
E-mail :
worldequipment@163.com
Skid Steer Loader
1/4/2011 10:49:43 AM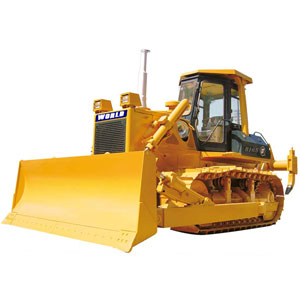 A skid loader or skid steer loader is a small rigid frame, engine-powered machine with lift arms used to attach a wide variety of labor-saving tools or attachments. Though sometimes they are equipped with tracks, skid steer loader are typically four-wheel drive vehicles with the left-side drive wheels independent of the right-side drive wheels. By having each side independent of the other, wheel speed and direction of rotation of the wheels determine the direction the loader will turn.

Skid steer loaders are capable of zero-radius, "pirouette" turning, which makes them extremely maneuverable and valuable for applications that require a compact, agile loader.

Unlike in a conventional front loader, the lift arms in these machines are alongside the driver with the pivot points behind the driver's shoulders. Because of the operator's proximity to moving booms, early skid loaders were not as safe as conventional front loaders, particularly during entry and exit of the operator. Modern skid loader have fully-enclosed cabs and other features to protect the operator. Like other front loaders, it can push material from one location to another, carry material in its bucket or load material into a truck or trailer.

A skid steer loader can sometimes be used in place of a large excavator by digging a hole from the inside. The skid loader first digs a ramp leading to the edge of the desired excavation. It then uses the ramp to carry material out of the hole. The skid loader reshapes the ramp making it steeper and longer as the excavation deepens. This method is particularly useful for digging under a structure where overhead clearance does not allow for the boom of a large excavator, such as digging a basement under an existing house.

The conventional bucket of many skid loaders can be replaced with a variety of specialized buckets or attachments, many powered by the loader's hydraulic system. These include backhoe, hydraulic breaker, pallet forks, angle broom, sweeper, auger, mower, snow blower, stump grinder, tree spade, trencher, dumping hopper, ripper, tillers, grapple, tilt, roller, snow blade, wheel saw, cement mixer, and wood chipper machine.
Skid Steer Loader
World Equipment Co., Ltd. offers a comprehensive range of products and services, including excavator (digger), wheel loader, crawler bulldozer, road roller, motor grader, skid steer loader, Compact Excavator, Sideboom and other vehicles as well as second-hand machines and spare parts. Having established our brand all around the globe.
Other