WORLD EQUIPMENT CO.,LTD.
Marketing Office: No.593 Middle TongJiang Road, 4#1110-1116,Changzhou,Jiangsu,China 213022
Manufacture: Dantu Industrial Zone, ZhenJiang, JiangSu, China
Post Code : 213022
E-mail :
worldequipment@163.com
W166 wheel loader has a great capacity of heavy duty; torque converter and counter-shaft transmission gearbox-Komatsu technology are used. They can be assembled separately. The machine has the features of higher reliability and easier maintenance; W166 wheel loader can be operated easily due to fully hydraulic steering system, power shift transmission and pilot controlled; the bucket of the machine can be leveled automatically. We have many optimized working device, which can ensure higher productivity; the operation environment is comfortable because new design cabin, grammar seat and air-conditioner are employed; there are various working devices in this wheel loader that are available, such as log clamp, pipe clamp, grass fork, plow, ore bucket, loose bucket, fork, etc. This can meet your different needs.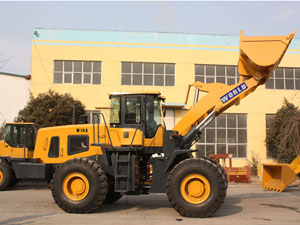 W166 Wheel Loader
Main Specification
Specifications
1
Bucket capacity
3.2m³
2
Rated load
6000kg
3
Transportation dimension(L×W×H)
8360×2950×3600mm
4
Wheelbase
3260mm
5
Thread
2250mm
6
Max. breakout force
200KN
7
Max. dumping height
3160mm
8
Dump distance
1200mm
9
Total time
11.48s
10
Operating weight
19000kg
Engine
1
Model
WEICHAI WD10G240E21
2
Pattern
Turbocharger, inline, water-cooled, 4-stroke, direct injection 
3
Rated power/speed
175kw/2200rpm
4
Max. torque
920N.m
Torque converter and transmission system
1
Model of torque converter
YJSW315-6H
2
Pattern
single stage two phase four components
3
Transmission type
power shift plant structure
4
Number of gear
2 forward, 1 reverse 
5
Max. travel speed
38km/h
Alex
1
Alex
Yunyu
2
Main reducer pattern
Spiral bevel gear first reduction
3
Pattern of wheel side moderation
Single stage planetary
Tire
1
Tire Size
26.5-25
Steering system
1
Pattern
Full hydraulic steering system
2
Max. turning radius(outside of bucket)
7260mm
3
Max. turning angle
35º±1
Hydraulic system
1
Implement pump
P7600-F125
2
Displacement
275L/min
3
System working pressure
18MPa
4
Distribution device model
DF32
5
Pilot valve model
DJS
Brake system
1
Service brake
Air assisted oil disc on four wheel
2
Parking brake
Flexible shaft control, disc type
Related Products
W136 Wheel Loader
Compared with other similar products, it has the advantages of energy saving, low oil consumption, and environmental friendliness...

W156 Wheel Loader
This W156 wheel loader features high-quality engine, low oil consumption, low noises, and reliable performance. it has been designed with double-turbo...