WORLD EQUIPMENT CO.,LTD.
Marketing Office: No.593 Middle TongJiang Road, 4#1110-1116,Changzhou,Jiangsu,China 213022
Manufacture: Dantu Industrial Zone, ZhenJiang, JiangSu, China
Post Code : 213022
E-mail :
worldequipment@163.com
Description
Asphalt paver is a construction machine used to lay asphalt and concrete on highway subgrade, road surface and square. Our company mainly supplies LTL60 C, 2LTLZ45E and 2LTLZ60 asphalt paving equipment. We possess over 10 years' experience of producing road pavers or crawler pavers.
Features
1. Absorption of oversea advanced technology and innovation of the new products make our asphalt pavers are of compact structure, stable quality and easy operation.
2. Adopting double-deck hydraulic stretching screed and automatic leveling device, asphalt paving machines can offer high paving smoothness and density.
3. The key parts of asphalt paving equipment, such as engine, gearbox, hydraulic pump, motor and control valve are imported, featuring advanced performance and reliable quality.
4. Quick-wear parts of asphalt pavers employ international advanced antifriction material to enhance the reliability of our crawler paver or road paver.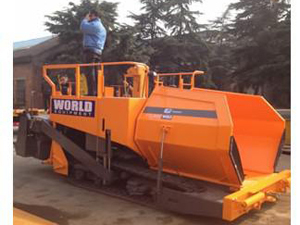 LTL60C Asphalt Paver
Performance
1. Feeder System
Feeding system of asphalt paving equipment adopts multiple-friction disc clutch and electrohydraulic control, featuring mature technology, convenient operation and large conveying capacity.
2. Travelling System
Our asphalt pavers adopt patented semi-axis drive mechanism. The crawler paver adopts patented track travelling mechanism and track supporting wheel mechanism, which can adjust the floatation and machine height to ensure reliable operation on uneven ground.
3. Hydraulic Extending Screed
Hydraulic extending screed of asphalt paving equipment could be adjusted steplessly within the paving width. With fuel heating and automatic ignition, the electrical fuel washing device is convenient for daily maintenance and reduces the labor intensity.
4. Automatic Leveling Sensor
Asphalt paver is equipped with two longitudinal and one transverse automatic leveling device, which reaches the demand of high-grade road smoothness.
5. Centralized Lubricating System
The system presses lubricant into all bearings with high temperature to improve the reliability of the asphalt paving equipment.
World Equipment is a professional manufacturer and supplier of asphalt pavers or road pavers in China. Manufactured to the highest standards of technology, quality and reliability, and priced extremely competitively, our brand has been well received globally. We mainly supply excavator (digger), wheel loader, crawler bulldozer, road roller, motor grader, skid steer loader, and so on. We export our asphalt paving equipment to European, South America, Middle East, South East and Africa. We are also delighted to provide OEM service for customers. For detail information about our asphalt pavers or crawler pavers, please feel free to visit the website or contact us directly.

Related Products
220 HP Bulldozer
220 hp Bulldozer (220 hp dozer) has reasonable structure, advanced performance, advanced technology.
High engine power, large output torque, low oil-consumption, reliable. ...

320 HP Bulldozer
Engine: ISUZU (Japan).
Imported pump, valve and motor from Japan or Korea.
Our crawler excavator (crawler digger) have high rigidity cabin are capacious ...