WORLD EQUIPMENT CO.,LTD.
Marketing Office: No.593 Middle TongJiang Road, 4#1110-1116,Changzhou,Jiangsu,China 213022
Manufacture: Dantu Industrial Zone, ZhenJiang, JiangSu, China
Post Code : 213022
E-mail :
worldequipment@163.com
Features:
1.W112 wheel loader can be operated easily due to fully hydraulic steering system.
2.The bucket can be leveled automatically. This mini wheel loader can employ many optimized working devices. The productivity of W112 wheel loader is higher.
3.The advantages of W112 wheel loader include streamlined appearance, low oil consumption, and reliable performance.
4.New design cabin, grammer seat and air-conditioner are optional for this wheel loader. The operation environment is comfortable.
5.W112 wheel loader can be equipped with various working devices, such as wooden fork, pipe fork, grass fork, stone bucket, enlarged bucket, plow, and fork. Therefore, this wheel loader can meet different requirements of the users.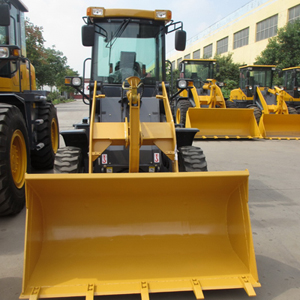 W112 Wheel Loader
Specifications of W112 Wheel Loader:
| | |
| --- | --- |
| Rated capacity | 0.45 m³ |
| Rated weight | 1200kg |
| Transportation | 4900×1600×2550mm |
| Wheel base | 2100mm |
| Tread | 1440mm |
| Max. breakout force | 36KN |
| Max. dumping height | 2850mm |
| Dump distance | 790mm |
| Total time | 13s |
| Operating weight | 2800kg |
Engine
| | |
| --- | --- |
| Model | QUANCHAI QC2105 |
| Rated power | 27kw |
World Equipment is a professional manufacturer and supplier of wheel loader in china. We provide W110 wheel loader and W112 wheel loader for clients. With more than 10 years' export experience, we have accumulated abundant clients and production experience. We have clients in Congo, Tanzania, Russia, Algeria, Philippines, Kazakhstan, Iran, Saudi Arabia, Nigeria, Indonesia, Malaysia, the United Arab Emirates, South Africa, Australia, Brazil, and Sudan. If you need W112 wheel loader, please contact us.
Related Products
W136 Wheel Loader
1. Compared with other similar products, it has the advantages of energy saving, low oil consumption, and environmental friendliness. 2. The W136 wheel loader featuring strong structure strength ....

W156 Wheel Loader
1.This W156 wheel loader features high-quality engine, low oil consumption, low noises, and reliable performance. 2.It has been designed with double-turbo hydraulic torque converter, and ...